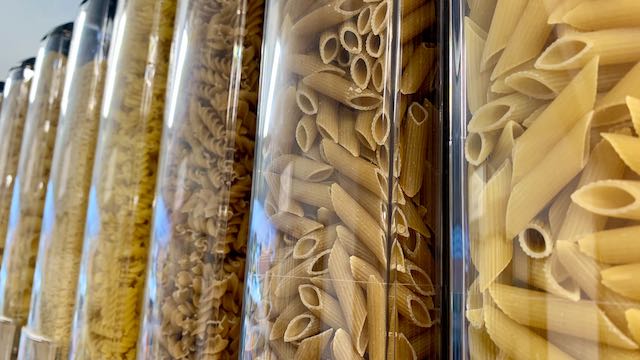 Pasta, Rice and Grains - Store cupboard staples for many; we have a range of ten pastas plus one gluten free pasta, several short and long grain rice varieties, as well as cous cous, bulgur and pearl barley.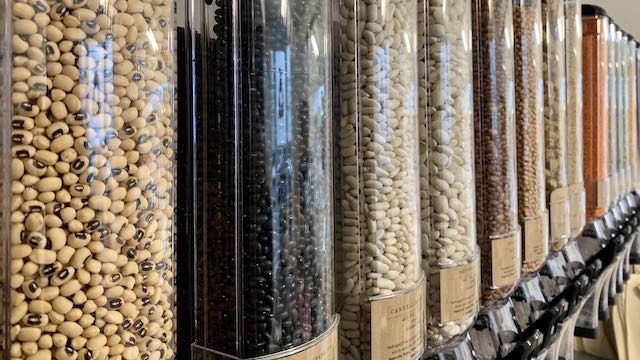 Pulses - At The Bishy Weigh we're big fans of humble pulses, so you will find an extensive range of beans, lentils, split peas and soy bean products on our shelves.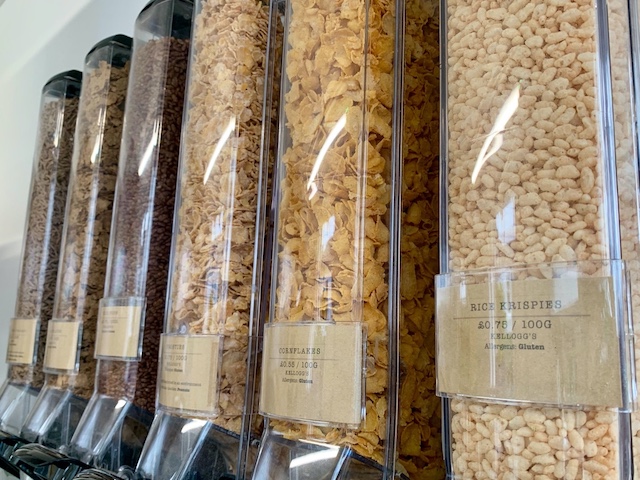 Cereals - We have a range of oats, rye, muesli and granola products, as well as popular brand breakfast cereals.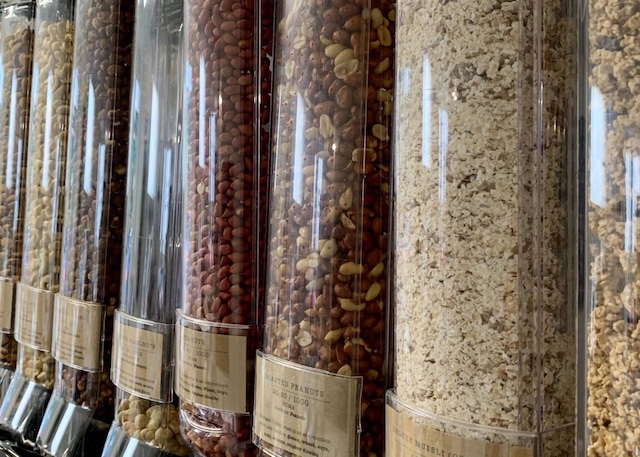 Nuts - Served from behind the counter for allergen safety, we have a wide variety of nuts and we even make nut butters and nut milks fresh to order!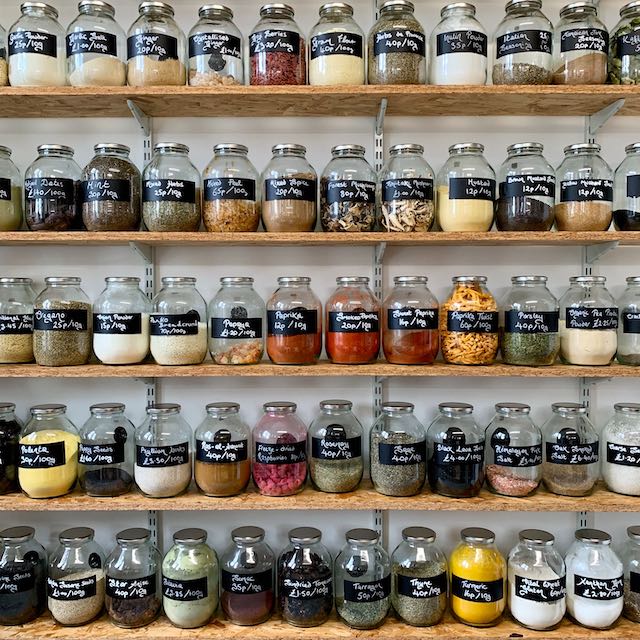 Herbs, Spices and Seasonings - Our "Jar Wall" houses over 100 herbs, spices and seasonings. So if we don't have what you're looking for we'll be very surprised!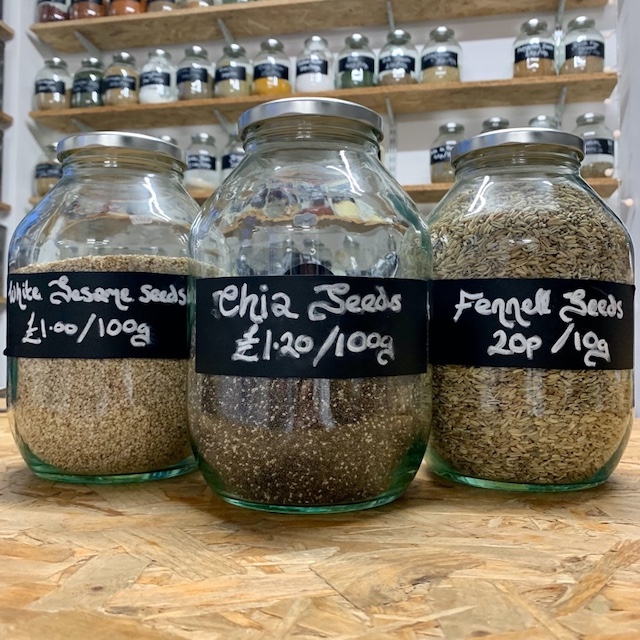 Seeds - Whether you're baking a mixture into your bread, creating a chia pudding, or sprinkling pumpkin seeds on your porridge we've got all the seeds you need.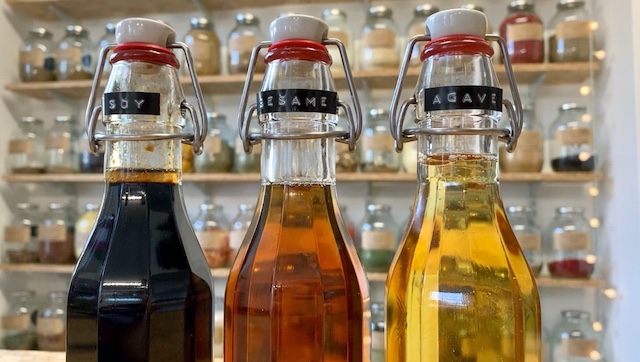 Oils, syrups and vinegars - We are proud to stock Yorkshire cold-pressed rapeseed oil. With a temperature range and mild flavour to rival the versatility of olive oil, but with a fraction of the food miles and supporting local industry! As well as tins of golden syrup and black treacle, we have Agave syrup, and top quality pure Canadian maple syrup available for refill. Whether you need it for cooking or cleaning, we have the vinegar for the job.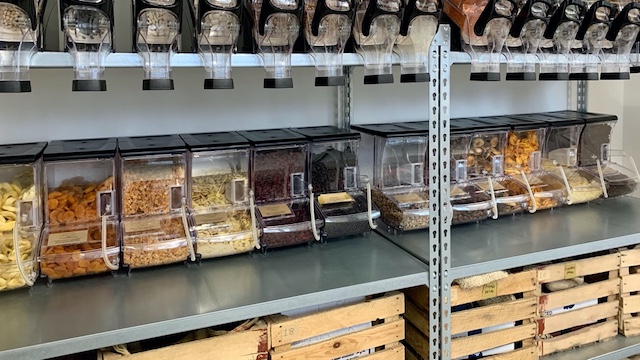 Dried Fruit - Whether they're for baking or snacking, whether you have tropical or traditional taste, you're sure to find what you're looking for in our dried fruit section where we have everything from Apple Rings to Sultanas.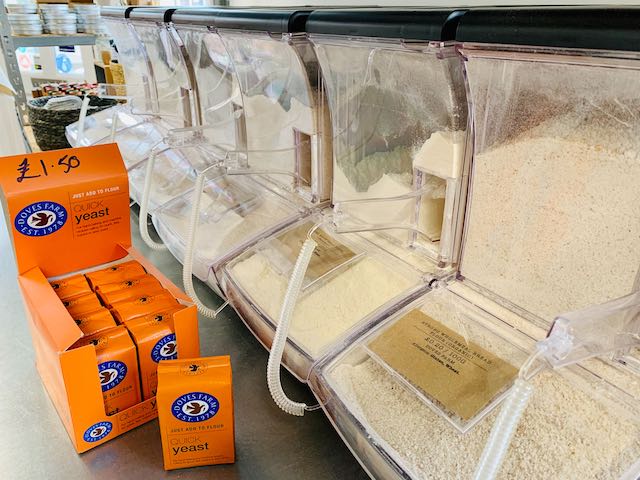 Baking ingredients - Indulge your baking hobby and peruse our range of sugars, flours, raising agents, and specialist ingredients including coconut sugar and flour, xanthan gum and more!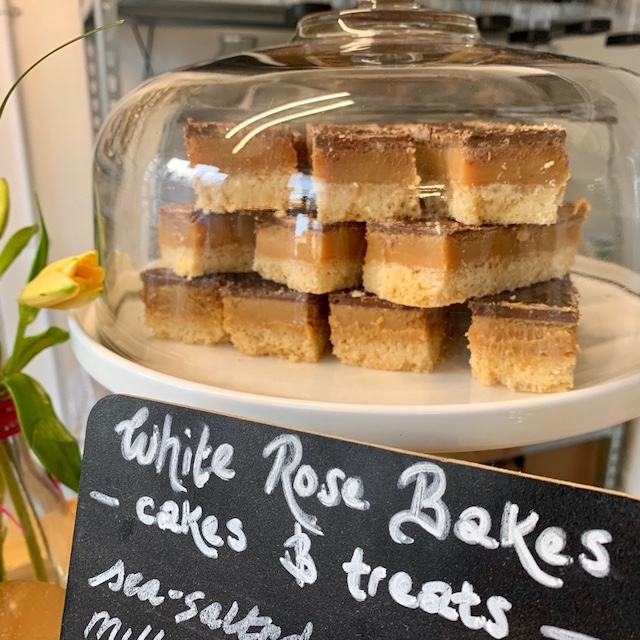 Cake - Our cakes are provided by Alice's bakery, White Rose Bakes, including their best-selling Sea-salted Caramel Millionaire's Shortbread and delicious vegan options too!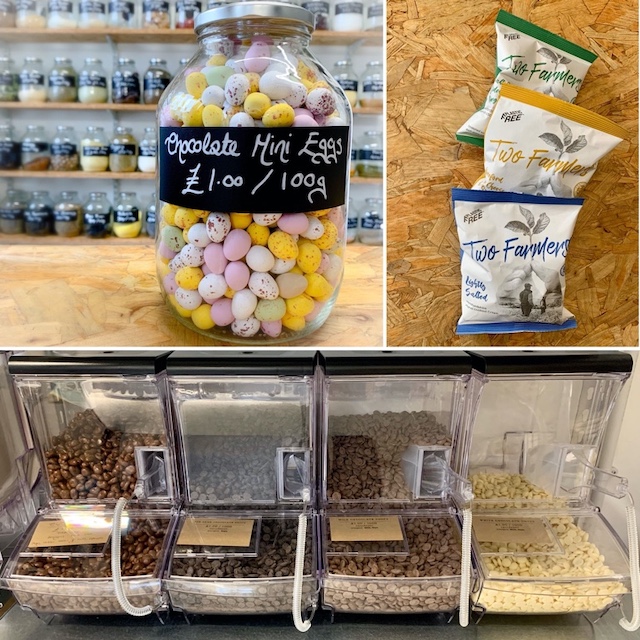 Chocolate and crisps - We all need a treat sometimes! So we stock a range of high quality Belgian chocolate drops, as well as delicious chocolate raisins, and crisps from Two Farmers which come in 100% home compostable packets!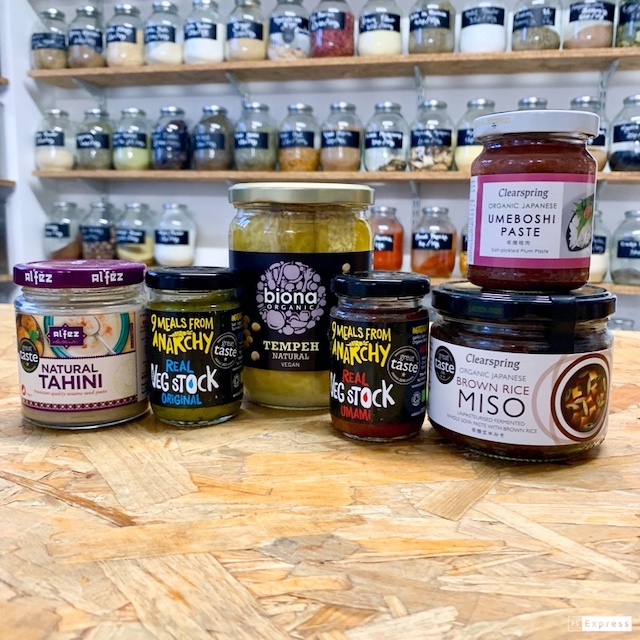 Condiments and packaged products - As well as all of our unpackaged goods, we offer a small selection of culinary ingredients in reusable, recyclable packaging. These include Yorkshire honey, coconut oil, vegetable stock and many more.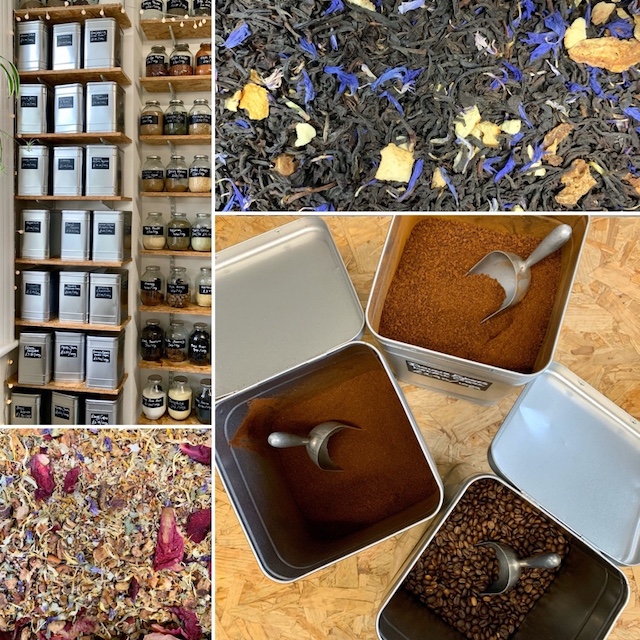 Tea and Coffee - Behind the counter, our caddies are filled with gorgeously fragrant popular blends of loose-leaf tea from Hebden Tea, and ground coffee and whole beans from York Coffee Emporium, (and Douwe Egberts instant coffee and Cadbury's hot chocolate too!)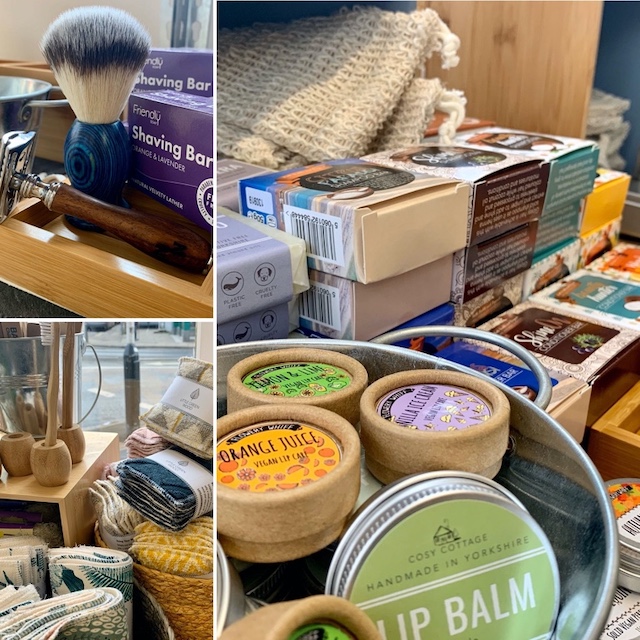 Toiletries - Scrub up nice with our lovely plastic-free toiletries! We have an extensive range of shampoos, conditioners and body washes in both liquid refills and solid bars. We also have recycled paper and bamboo toilet rolls and tissues, reusable sanitary products, safety razors, deodorants, lip balms, solid perfumes, washable baby wipes and makeup wipes, natural loofahs, sunscreen, hair products, bamboo combs, bamboo toothbrushes for adults and children, toothpaste tabs and more!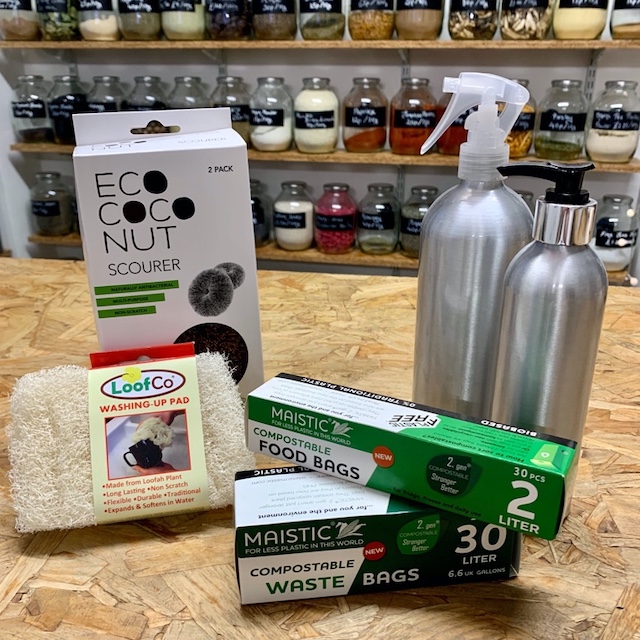 Household cleaning - Bio D provide us with a fabulous range of household cleaning products. These include washing up liquid, laundry liquid and fabric conditioner, surface cleaners and toilet cleaner. We also have two eco electrolysed water cleaning products by Northern Lytes, and plastic-free dishwasher tablets from Eco Leaf.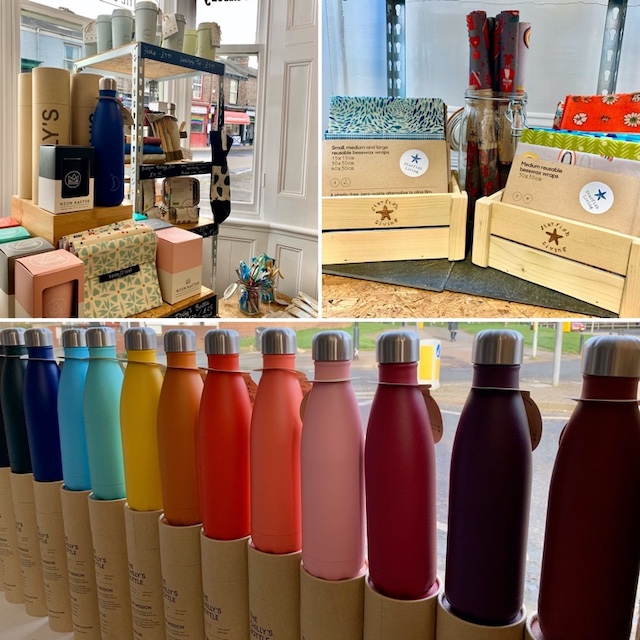 Homewares and Gifts - Check out our plastic-free alternatives to household essentials such as scourers and cleaning cloths. We also have accessories for loose-leaf tea, a range of lunch boxes, thermal flasks, coffee cups, bamboo cutlery sets for when you're on-the-go, beautiful locally made beeswax wraps, and more!